CLASS 57 EVANSVILLE 2016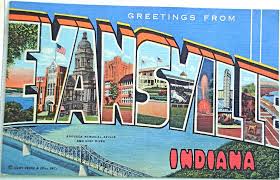 TUESDAY DAY TWO OF REUNION
All rested up and ready to go some members were at early breakfast when they noticed an ambulance sitting outside the main entrance of the hotel and later found out that one of us had an accident in the morning. Phil Heslin was trying to shower and did not have the shower settings correct and the water was very hot. In trying to escape from this he fell and opened a wound on his arm. Alyson tried to stop it from bleeding but since he takes blood thinner meds she decided that a 911 call was necessary. The AMR crew arrived and bandage him so that the bleeding was stopped. Phil was well enough to make breakfast, but Alyson decided that he was not walking well enough to just use his walker and she and Kay went to a store and rented a combination walker that could be switched to a wheel chair.

We were now over an hour late for our scheduled tour at St. Meinrad Archabbey. We typed in the addresses for our trip and convoyed east on Interstate 64. We made a quick pit stop and continued on. During the drive I received a call from the receptionist at the Archabbey asking if we were still coming and I assured her that we were but would be a little late (about 90minutes). We were greeted with open arms and a brother took us on a tour of the main chapel which included a special use of the Door of Mercy. After the tour we stayed for the noon prayers by the brothers. Fallowing the prayers we dined in the guest house and had a great light lunch and at the same time we were back on schedule for our visit to the Immaculate Conception Convent in Ferdinand. Pictured on the left is the Tabernacle in the Adoration Chapel at St. Meinrad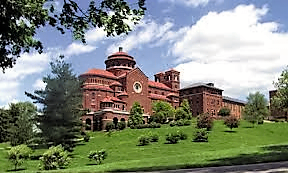 A short trip to the convent took about an hour and 20 minutes because the time changes from Central to Eastern. We arrived and found a parking space for our wheel chair rider. As you can see the buildings (below) sit on a hill and from the parking spot to the entrance was another 30 or 50 feet higher. You can use the stairs or the ramp. Alyson wanted to push Phil up and we followed in case we had to push both of them. The Sister that was our tour guide was in a powered wheel chair so Phil did not feel odd. It was a beautiful place to see. Their history is fantastic. Hope to show more pictures later. As we left the convent we drove through the grounds and saw the new gift shop and the St. Benedict's Brew Works.
Instead of just going to Interstate 64 back to our motel we headed south and drove past Holiday World and Santa Claus , Indiana.